Coworking Office Options in Breckenridge
Choose the workspace that is right for you. Pick a time, date, and pay. Voila!
Display pricing
Private Office  
most popular
$40 / per hour
Privacy meets productivity, a thoughtfully designed personal office that allows you to concentrate on the task at hand. This is an Mountain Cabin Plus with more comforts. The Office is equipped with a sit-stand desk, an ergonomic chairs, and an external USB-C display with a web camera and a vanity light, to look your absolute best on those Zoom calls!
Mountain Cabin Plus
$35 / per hour
Similar to Mountain Cabin but with 30% more room it really feels like your own office. You get an external display and a high resolution 4k camera with dual microphones, a vanity light to look great on Zoom, and plenty of extra space to stretch out, lean back, and maybe even put a small luggage.
Large Conference Room
$65 / per hour
Spacious and bright conference room with a large screen display and whiteboard. Seats 8 around a conference table by default. The room is 11ft x 15.5ft, the table can fit up to 10. For custom assistance eg. to accommodate more than 8 or a different furniture arrangement, we may be able to set it up subject to staff availability: please email hello@breckworks.com.
Mountain Cabin
$30 / per hour
Just the right size for a day's work. Close the door and zoom away, or just enjoy the quiet space for some focused work. Each cabin is equipped with an external display and a high resolution 4k camera with dual microphones for your convenience. Your work, your way.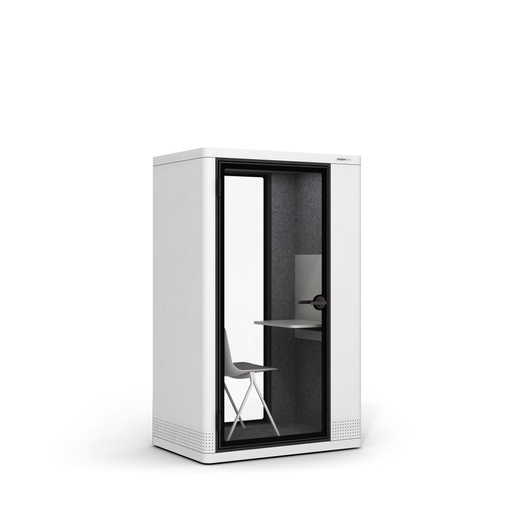 Private Pod
$20 / per hour
Got to take a phone call or an important work meeting, and don't need a ton of room? This premium quality phone booth might be just right for you. Zoom in and zoom out!
Hot Desk
$15 / per hour
Grab a fully ergonomic workstation in our flex shared office and work in peace. A perfect setup if you need to focus, but don't need the added privacy of a Private Pod or a Cabin to make phone calls. Hot Desk is a quiet space by design.
General Access
$10 / per hour
Lounge on the sofa, grab a cafe table, sit under the fruit tree, make yourself comfortable anywhere that's open in our facility. 24/7 access. Complimentary phone booth use.